Builder+ by BTCS is our newly developed Ethereum relay and block builder which utilizes advanced algorithms to meticulously construct optimized blocks for on-chain validation and designed to maximize validator earnings.
By strategically rearranging new transactions and 'building' blocks for proposals, Builder+ ensures efficient block confirmations, enhances validator performance by handpicking profitable proposed blocks, and enables smoother transaction processing, unlocking substantial additional MEV fee rewards opportunities.
Builder+ provides BTCS a path to scalable revenue on Ethereum's blockchain with limited additional costs.
What is MEV? >
Technical Docs >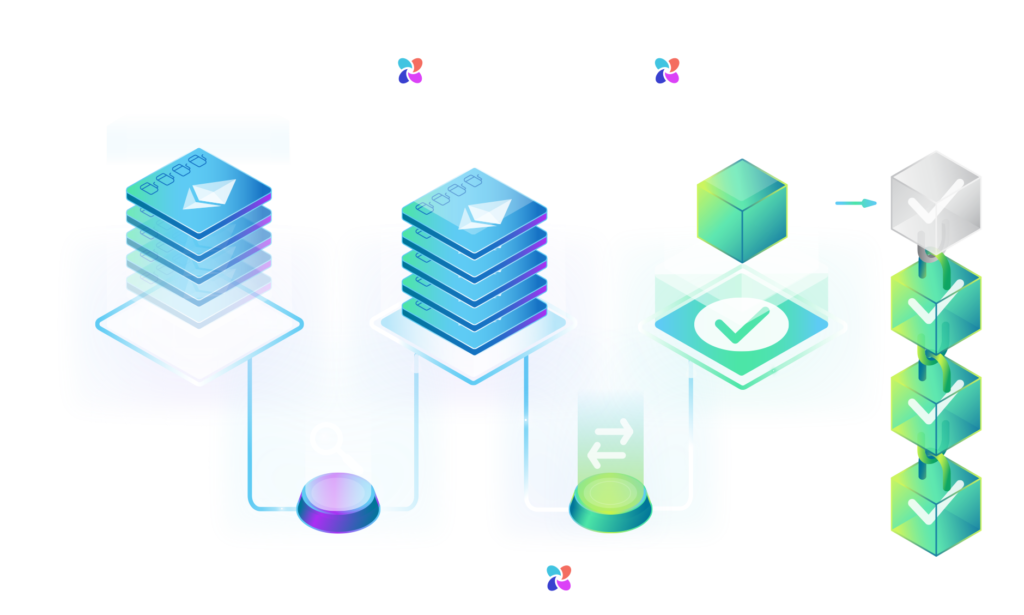 Searchers independently participate in the network and continuously monitor the public mempool to execute a variety of arbitrage strategies. Their primary objective is to identify opportunities to profit from strategically rearranging order flow and bundling certain transactions together. Searchers do not construct blocks; instead, they fulfill the role of notifying a builder regarding potential transaction bundles they desire to see included in the next block.
Relays are a critical component to the efficiency of the Ethereum transaction process by acting as a middleman between builders and validators. One essential aspect of the relay is that the validator remains unaware of the block's contents until they sign and validate the transaction allowing for a secure method of communication between builders and validators.
Validators take on important responsibilities, including proposing blocks and establishing consensus. The contents within a block, known as blockspace, are assigned by validators to builders. Upon receiving the block's content from a builder, the validator proceeds to sign the block and broadcasts it across the network. Once the other validators acknowledge and recognize the block, the transaction becomes confirmed and becomes a permanent part of the blockchain.
The builder plays a crucial role in the transaction process by aiming to maximize the profitability of each block. It achieves this by simulating different transaction orderings within the block and identifying the most profitable arrangement based on the current public transactions. Once the builder identifies the optimal block, it must bid and pay a fee to a validator to propose the block to the rest of the network.
When a user initiates a transaction, it's initially sent to the mempool. The mempool functions as a temporary storage space or queue for pending transactions that are awaiting confirmation and inclusion in a block. Transactions waiting in the mempool are publicly accessible, meaning anyone can view the contents of these transactions before they are permanently recorded on the blockchain. Each transaction in the mempool also has an associated fee the user is willing to pay for the transaction to be included in a block and added to the blockchain.
In a rapidly evolving blockchain ecosystem, Builder+ empowers Ethereum validators to seize the future of transaction processing. It's not just a block builder; it's your gateway to maximizing rewards.
How Builders add Value to the Blockchain
Increases Validator Incentives

Builders boost validator incentives by simplifying the process of capturing MEV rewards associated with proposed blocks, making participation in the network more lucrative and competitive.

Improves Network Capabilities

Builders enhance the network's efficiency by optimizing block construction and transaction order, which may result in increased transaction throughput, alleviated network congestion and improved overall performance.

Enhances Decentralization

Builders promote decentralization by reducing the technical barriers for validators to maximize rewards, ensuring a broader and more diverse set of participants in the network and reducing risks of censorship by separating the builder and proposer roles.

Promotes Innovation

Builders are poised to foster innovation within the Ethereum ecosystem by expanding the MEV marketplace and streamlining MEV strategies. This empowers developers to focus on creating value-added applications and services, cultivating a culture of innovation throughout the network.
What is MEV?
Maximal Extractable Value (MEV) is a key concept in blockchain economics. It represents the highest potential value that can be harnessed during the block creation process through the strategic reordering of transactions within a block to prioritize those willing to pay the highest fees, resulting in a more lucrative outcome for validators.
In addition to the traditional block rewards and gas fees, validators can capture a share of the MEV generated by a MEV-optimized block builder, such as Builder+. This means that by leveraging a MEV-focused block builder, validators can unlock an additional layer of profit, maximizing their overall earnings in the blockchain network.
Searcher Docs >
Relay Docs >
Frequently Asked Questions
Does BTCS Inc. operate Ethereum validators?
Yes, BTCS Inc. has been actively validating transactions on the Ethereum blockchain since 2021.
Does BTCS Inc. operate as a searcher?
No, we only use bundles to build competitive blocks. We do not perform any type of MEV strategies such as arbitrage. 
What are MEV Strategies?
MEV strategies are implemented by Searchers and involve the execution of transactions, which are integrated into their transaction bundles. MEV strategies are typically created from decentralized finance and trading applications. Searchers employ a wide array of common strategies including: 
Frontrunning/Sandwich

ing

 

Arbitrage

 

Liquidations
What's the difference between a validator and a builder?
This is commonly referred to as Proposer-Builder Separation (PBS). The responsibility of the validator is to secure the network and broadcast blocks to other nodes. If a validator wants to maximize their revenue, they rent their blockspace to the highest bidding builder. A builder's job is to sequence different transactions in a block that maximizes the fees collected and MEV. 
How does a validator get chosen to propose the next block?
Validators are chosen at random to propose the next block. 
How does a builder get their block chosen by a validator?
Builders will pay a fee to the validator that has been chosen to propose the next block. The validator will simply accept the block from the builder that paid the highest fee. 
Which relays does Builder+ by BTCS submit blocks to?
Builder+ by BTCS only submits blocks to OFAC filtered relays. The relays that Builder+ sends blocks to are: Relay1, Relay2, Relay 3… 
Interested in utilizing our builder? Let us know by sending us a message below.